There are several camps and events that people of all ages can get involved in at Singletree! From summer camps, clinics, barn shows to college classes from WSU.
SUMMER CAMPS:
Singletree conducts Summer Camps during the months of June, July and August. These 5-day sessions are held from 8:00 am thru 12:00 noon, Monday thru Friday. The cost is $175 per week. Students ride twice each day from 8:30 am to 9:30 am and from 10:30 am to 11:30 am. On Friday the students show off their new skills in a horse show. Students decorate their horses and themselves to reflect their favorite theme. Schedule your sessions early in order to insure your choice of dates and times as spaces are limited.
To participate, please fill out our Release form.

Week 1.  May 28 – June 1 Open
Week 2.  June 4 – June 8  Open
Week 3.  June 11 – June 15  Brownies
Week 4.  June 18 – June 22  Juniors
Week 5  June 25 – June 29  Senior
Week 6.  July 2 – July 6  Open
Week 7.  July 9 – July 13  Brownies
Week 8.  July 16 – July 20  Senior
Week 9.  July 23 – July 27  Junior
Week 10.  July 30 – Aug 3  Open
Week 11.  August 6 – August 10  Open
WICHITA STATE UNIVERSITY:
Singletree is currently under contract to conduct the Horsemanship classes offered by Wichita State University. We have been teaching these popular classes for WSU for the past 10 years. Students enrolled in these classes, learn how to groom, tack up their horse,  and  ride either Western or English. They also learn how to handle horses safely. Riders of all ages and ability levels are eligible for this class as are students with disabilities. Students who are interested in taking the class have a wide choice of class times available to make it easy for working students.
The classes are offered: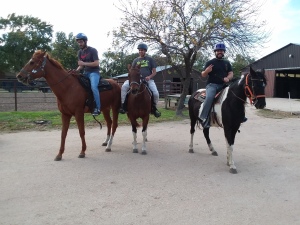 Monday 1:00am and 6:00pm
Tuesday1:00 pm and 6:00pm
Wednesday 1:00pm and 6:00pm
Thursday 1:00pm and 6:00pm
Friday @4:30 pm
Saturdays at 10:00 am  12:00 Noon  and 2:00 pm.
Other times can be added as needed
For more information call Joan @ 316 207-9513 or write to jm.neal@cox.net. to communicate with either Joan or Jill.
To participate, you will need to fill out our WSU Release Form.
BARN SHOWS:
From time to time, Singletree conducts small barn shows. These shows are sometimes just for the boarders and/or students here at Singletree, but we also invite outside riders on occasion. These shows will be announced in this section as they are planned.
CLINICS
Any clinics held here at Singletree will be announced in this section.
OTHER GROUPS:
Singletree has regularly hosted and instructed various groups including Schools, Churches, Scouts and others. Holy Savior School has been a regular client during the Summer Months. Collegiate School is another group that uses Singletree for one of their  Summer School activities. We also regularly host team building groups for various businesses in town.  Even wedding receptions or family reunions.