Call Joan @ 316 469-9699 or Jill @ 316 393-6116
Visitors Welcome Anytime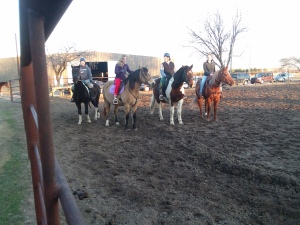 Singletree Stables is family owned and operated by Joan and Jill Neal and has been in business at this location for more than 40 years.
We strive to offer:
Custom care of horses tailored to each border
Horse leasing by the month or by the year
Horse training for the recreational rider or the show rider
A complete and extensive lesson program including summer camp
Quality horses for sale
Garden Ready Compost all year long.
Our facility is located in Wichita, Kansas at 2100 E. 45th N. There is easy access to Singletree from all directions!
From East Wichita, 96 is the way to go
From the West. 235 and 254 will bring you to our door
From the North and South, 135 will get you here in good shape
Singletree is located on 45th street North between Hillside and Hydraulic. We are 1/2 mile West of Hillside.
Meet our Staff
Jill Neal – Owner 316-393-6116
Jill Neal is one of the owners of Singletree and has trained horses and been an instructor since the barn opened in 1978. As a youth, Jill trained and showed American Saddlebred horses. She herself was high point equitation champion in the Missouri Horse Show Association for three years running . Since that time she also competed in open classes throughout the country. In addition she has instructed and trained many champion riders and horses with an emphasis on Saddle seat equitation. She is also a qualified instructor for western riders and hunt seat riders. Jill manages the boarding facility and oversees and conducts the lesson program at Singletree.
Joan Neal – Owner 316-469-9699
Joan Neal is one of the owners of Singletree and has been involved with the overall management of the barn for over 35 years. She was a horse-show-mom for many years and has always assisted Jill with her show students and helped with the lesson program and summer camps at Singletree.
Payments
Pay for services from Singletree Stables online quickly and easily via PayPal. Just click the button below and enter the amount you'd like to pay during checkout.