Call Joan at 316 469-9699 Or Jill at 316 393-6116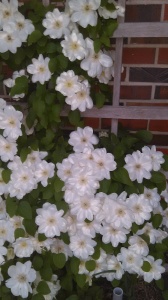 Available year round at Singletree Stables.
Completely chemical free. Fully decomposed and garden ready.
Guaranteed to enrich and enhance any soil type. Composed of all-natural ingredients with a dependable and consistent quality.
Compost may be picked up here on site or delivery is available for Wichita and surrounding areas.
Loaded pickup: $30 (We load)
Delivery: $100 plus delivery surcharge depending on distance. Approximately 5 cubic yards.
Satisfied customers include many of the Master Gardeners around Wichita. Several Nurseries, including Hillside Nursery, Lyn Groundskeepers, etc. Numerous new and repeat customers from Wichita and surrounding areas. Many of the gardens at Botanica were planted over the years with our compost. Sedgwick County Extension Service recommends us for compost inquiries.
Interested parties are welcome to come and collect a sample of the compost. Bring a bucket or a sack.
For information call Joan at 316-469-9699. or Jill at 316-393-6116, or send us an email at jm.neal@cox.net.